Dear training participants,
The following information will provide you some information for your training during the Covid-19 pandemic. We will do our best to protect your and the trainers' health during the training.
Until 31.08.2021 all trainings will take place online only.
From 01.09.2021 on, you can attend your training at a Trivadis training location again if you prefer, as long as the development of the incidence rate and the instructions of the health authorities allow it.
Trivadis still recommends online participation in our trainings to minimize the risk.
Many trainings are conducted as hybrid trainings. This means that you can decide yourself whether you want to participate in the training room or online.
We are constantly monitoring the development of incidence rates in Germany, Austria and Switzerland.
If the situation deteriorates, we reserve the right to switch back to online training at any time. This way we avoid unnecessary risks.
The distance regulations, regulations for mouth-nose protection and maximum number of participants on-site are based on the regulations of the health authorities. The currently valid regulations are linked here for Germany and here for Switzerland.
All workplaces in the training rooms are disinfected daily.
Single-use disinfectant wipes, soap and hand sanitizer are available.
We live a "Corona Code of Behaviour", which includes hand disinfection before and after entering the Training Centre, sneezing and coughing into the crook of the arm, etc.
We act cautiously and observe the situation carefully. None of our staff have had any contact with Covid-19 infected persons
If Training, then from Trivadis.
we are successful in Training since 1994
with a considerable list of well-known and content customers like Lufthansa, BMW Group, Raiffeisen a.m.m.
our trainers are Consultants with a lot of practical field experience, knowledge-transfer guaranteed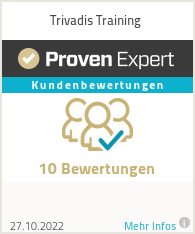 beside standard courses we have self-developed and tailor-made trainings
our training materials are also digitally available
trainings can be visited in Germany, Austria, Switzerland and Denmark in more than 14 locations (or on-site)
we offer individual Consulting, Coaching and Workshops
TRIVADIS TRAINING
COURSES 
Discover our current training courses and register today for the course of your choice!
What clients say about us
"A good atmosphere, professional training with an experienced trainer who trained us with heart and mind – what more do you need? The bad thing – surprisingly  was the weather. I think that says it all."

18.08.2017, Johann S., Peek&Cloppenburg KG, Hamburg

Peek&Cloppenburg

"The perfectly customised training delivered by Trivadis has enabled 35 developers to master the shift from Oracle databases to MS SQLServers. Also, the proficient course instructor tailored the training sessions to the participants' needs."

Holger Höpfl, SwissLife

SwissLife

"The training exceeded all our expectations, and the set objectives were fully achieved – all this within a very pleasant and extremely friendly atmosphere of cooperation. Trivadis AG remains our first choice!"

Dr. natw. ETH (PhD graduate from the Swiss Federal Institute of Technology in Zurich) R. Naef, Head of the Division "Applications & Services", University Hospital Zurich

University Hospital Zurich